Category Archives:
God
There I go again. No matter how I turn, turn, turn, I seem to keep ending up in the same place. Same grumbling. Same shaking my head. Same temptation to just keep dialing into the doom that feels nearly overwhelming in spite of my best efforts to haul myself up and onto the happy train.
Four years ago, while I was traversing the Capitol Mall on my way to attend the National Book Festival, I got a look at the 2016 Inauguration preparations. Pedestrians were only allowed to cross on designated pebbled pathways which were bounded on either side by tall chain link fence. Looking through the links I saw, in one distance, the Capitol building and in the other, the Washington Monument. Between them, what is normally a grassy expanse was instead covered in white plastic tarp, dotted at regular intervals by thousands of black sandbags. It looked to me like a huge cemetery.
How prophetic this feels today as tomorrow's inauguration looms, now with 400,000 lives lost in the US alone to this deadly pandemic. I'm mired in gloom as I watch current preparations underway, standing as I am with metaphorical feet mired in today's muddied grounds. I, free of Covid infection so far, am instead wracked by the virus of anger, unprotected by my antibodies of indifference, distracted continuously by division and rancor, all the while fretting in fear. Stone cold stuck in a furrow of my own making.
All of this angst fueled the very capable side-planking exercise I performed early this morning. 60 seconds to the right side: 60 seconds to the left. Stable and strong until I then tred to elevate one leg. Ha! it shouts, taunting and merciless. The mind says go, but the muscles say no way! Those hamstrings ain't what they used to be, but at least they're truthful. Better than my core which is now suspiciously silent.
Funny how a bit of daily sturdiness can trick ya into thinking you're moving right along when actually you're stuck in the rut of your regular routine. All that time you thought you were making beautiful music you were just a skip in the record, repeating the same refrain, over and over and over.
Time to pick up the arm of that old Victrola and set the needle on the next track to play a new song. Gently.
Today, this January 19th of 2021, the vast lawn of our National Mall is being draped, one might say planted, with 400,000 flags, each one representing a person who will not attend this inauguration because of Covid-19. Today, this hallowed ground will, in fact, be a cemetery. The image, though desperately sad, is incredibly moving. Ironically, from this brokenness, we can be inspired. Inspired not just to set up camp and mourn for the lost, though we have to and we will continue to, but rather to pick them up and carry them with us into a better day.
God will provide that day.
No temptation has overtaken you except what is common to mankind. And God is faithful; he will not let you be tempted beyond what you can bear. But when you are tempted, God will also provide a way out so that you can endure it.

1 Corinthians 10:13
"I'm proud of him for standing up to that ref! That was a terrible call," the man said as lifted his soccer chair, slamming the two arms together. Shaking his head and muttering to those around him, or perhaps mostly to himself, he added, "I'm really proud of him for standing up for himself. He has the right to do that."
I overhear this as I wait to take my place on the sidelines to watch the next game. My 12-year-old daughter's team is about to take the field. There still is a buzz in the air. No handshakes being offered or good-game wishes. Officials are conferring and consulting with one another. The previous game must have ended badly.
I've seen this happen before leaving angry team parents red in the face from yelling about the call that "cost them the game." They swear under their breath and disparage the ref, the play, the other team, the other coach, the outcome. Sometimes this escalates into a shouting match on the sidelines with opposing parents lobbing epithets and even threats at each other. Occasionally, things even get physical.
But in this moment is different and I'm stunned. Never before have I heard a parent uttering glowing praise for their kid who was just issued a red card for dissent toward a referee.
Dissent is a red-cardable offense according the rules of soccer, which are officially called the "Laws" of soccer. It is one of just a few transgressions considered so egregious that the penalty is ejection from the game. The player cannot be replaced, and their team must complete the game with one less player, known as playing "one man down."
Outright red cards are quite rare in youth games in my experience. Typically, they are shown when a player is engaged in such persistent fouling that they have been called twice for yellow card offenses. ( 2 yellows is an automatic red) Regular fouls, punishable by a yellow card and a free-kick for the opposing team, happen fairly regularly. They are run-of the mill transgressions: shoving, tripping, illegal tackling, handling the ball (other than the goal keeper), obstruction, reckless play. Generally, they occur because kids are just a bit overly enthusiastic or perhaps a bit too aggressive, and even then, the player is usually warned before they're booked with a yellow. Persistent misbehavior earns a red.
Apparently, this kid persisted.
His proud papa has me thinking about why we need referees. I confess that, in my capacity as player, coach and parent, I have sometimes disagreed with a referee and occasionally said so. Loud enough for that referee to hear. But I hope I have not done so in a way that has disparaged that person and certainly not with the intention of overriding or negating the established laws of the game or the ones pledged to uphold them.
The game needs a ref: in fact it must have one. If two teams are going to compete fully and at their best, we need someone who knows the rules and will administer them fairly, in an unbiased fashion, equally toward each side. It's a tough job. Refs get paid to do it, but not much. The good ones see it as a chance to teach the players how to compete well according to the rules. They cannot tolerate dissent. If they do, things quickly devolve.
Sides resort to whatever tactics work and if enough is at stake they play with complete impunity.
Downward this spirals. 
Anything to win.
Morality and ethicality out the window.

"Out on you! Our ball!"
Too late.
Catch up, loser.

I'm only cheating if I get caught
I'm only lying if they can prove it
And even then, if I can talk my way out of it, I'm a celebrity.
Yes, without rules and someone upholding them, things usually get ugly.
True, sometimes the ref misses a call. Sometimes they don't see the foul, or they let things go, or they may even seem to be leaning in favor of one side over the other. They are, after all, fallible. But we cede authority to them because we need to for the sake of the game. Once we don't, we're lost and all is lost. We may as well not even play because in the game played without regard for rules, the one most willing to break them is the winner. In effect, the worst team always wins.
Today, in the aftermath of the storming of the US Capitol Building by individuals in complete disregard for the rule of law in our country, I am wondering about manmade law and its place in our lives. About the boundaries and regulations law-abiding citizens agree to observe. About the authority under which we place ourselves for the sake of security, community and the common good.
What's clear is this: left to our own devices, we are not that good. We need a referee.
And for this we may need to go back to the basics. Back to the decrees and laws declared at the first, when Moses was appointed referee. Back to thou-shalt-not…
have other gods
bow in allegiance to idols
use God's name in vain
murder
steal
give false testimony about your neighbor (lie)
or covet what belongs to your neighbor.
And thou shall:
observe the Sabbath and
honor your mother and father.
Today, this years-ago boy and his showering of praise for his red-carded dissent has come back to mind. Probably 12-13 then, that would put him in his late 20's now. Just about the age of many we saw ravage the halls of our Congress yesterday. I wonder if that boy has grown into a young man that father is still proud of.
Dear Lord, 
Today, I pray for our country. 
For this Republic and the bold experiment it represents. 
Thank you for our founders and their foresight, 
for the rule of law and for those who uphold it. 
Protect them and bear them up on your powerful wings. 

Today, I pray for our country.
I lift up to you those who have lost their way.
Those who have forgotten the thou-shalt-nots, 
those who never learned them and especially 
those who have lost their fear of them. 

Today, I pray for our country.
Help us to renew our commitment to each other as we rededicate ourselves to You.
Cleanse from us anything that would hinder your work in our lives.
Help us to trust so we can obey with willing hearts and clear minds.
 
Amen
Recently, I caught myself smiling, albeit lamenting the message on the window sticker of the car in front of me. It read: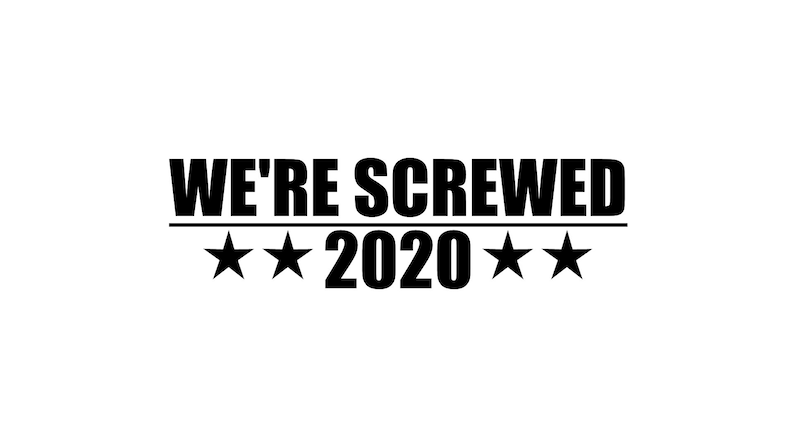 Whether meant to be political, personal or simply amusing, it struck a cord. It certainly has become popular, and honestly, understandably so, to berate the year that's nearly complete, what with its plethora of hardship; death, destruction, division, sickness, sacrifice and sadness have all claimed the headlines. And that's just scraping the surface.
It's been a year, hasn't it.
As I sit at the keyboard with hopes of penning this year's Christmas letter, I feel a bit stymied. Gonna be hard to come up with "good things" to share this year. Even though the truly bad or worse has not befallen us, and by us I mean me, personally, the year wears a dimness and pallor that tinsel and sparkling lights have difficulty brightening.
Thus, I am particularly glad for a practice I began at Thanksgiving time, inspired by friends who introduced me to the prayer practice known as "I make an act of Thanksgiving." I begin by first penning THANKS in the middle of my prayer card and then to pencil over and around it the many things for which I am thankful. Soon, what began as a daily expression of gratitude becomes an illegible cloud of thanks. A scribbled act of Thanksgiving.
And the funny thing was, once I could no longer read what I was writing, I wrote with more abandon: lists, phrases, descriptions… Who cares about penmanship and spelling? Repeats? why not? Whatever thoughts bubbled up got recorded, dashed here, dashed there, written one upon another, as wordy as I wanted. With no one else reading for clarity, completeness, depth or heaven-forbid, handwriting, I'm free to draft dreamily.
And this felt like prayer; not the kind offered to be seen or heard or deciphered by another, but rather the sort lifted without reservation, neither tested for correctness nor edited for proper grammar. More babble, less banter. More honest, less honorary. More admission, less admirable. More Publican, less Pharisee.
Oh, I see you there, trying to decipher what you can. Never you mind. It's glad tidings all, with pets, of course, figuring prominently and loved ones a-plenty.
In making this act of thanksgiving I came to realize that 2020, in spite of itself, held many, many things for which I was deeply grateful. Though I can't recite them all or even read them back to you, the evidence is there in the cloud. At first a legible light grey, it grew messy, darkening to shades of charcoal and ominous black. Were it a weather cloud, it would surely portend a storm. But on paper it has instead etched gratitude, happily rendering my penned THANKS enticingly illegible. To the human eye.
But Divine Sensibility is an audience that happens in real time. One by one. Toss…catch. Toss…catch. No addition or subtraction, no multiplication or division, no calculation at all. Yet, a relationship is fashioned which leaves no trace to the human eye. The human heart knows better.
Yes, as a sputtering 2020 forges ahead toward its welcome conclusion, I, instead of screwed, scammed or squashed actually feel supported. Something bids me to tarry here a while in what I might learn from this eventful year, given its unique perspective, challenging reflection and perpetually quaking scenery and tone.
Funny how, when we invite light to shine into the deepest darkness, it shows us what we would have never seen in the bright light of day.
For this, I make an act of Thanksgiving.